O'Sullivan knocked out of World Championship
Snooker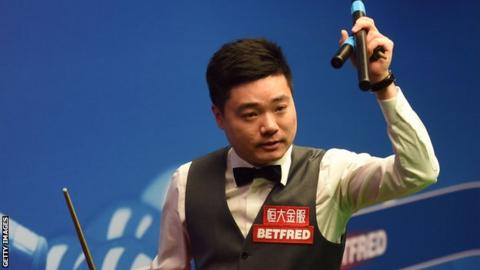 Five-time champion Ronnie O'Sullivan has been knocked out of the World Championship, beaten 13-10 by China's Ding Junhui in the quarter-finals.
Ding built a 10-6 lead after two sessions but O'Sullivan scored a 97 and a magnificent 146 to win three of the first four frames on Wednesday.
An 87 took the Chinese player to within one frame of a first ranking-event win against O'Sullivan since 2006.
And despite O'Sullivan responding, Ding finished off with a classy 117.
He now meets Mark Selby in the last four.
Six-time world champion Steve Davis on BBC Two:
In the same way boxers collapse into each other's arms at the end and say, 'you are a great player'. That moment was very similar, regardless of whether it was a physical or not, it was the same mentality.
For all of the times when Ronnie O'Sullivan throws teddies out of the pram, players appreciate other great players. From Ding Junhui's perspective, getting to the final last year was a massive stepping stone. This is another part of the jigsaw puzzle and unlocks the World Championship a little further for him.
Ding has always been clinical in amongst the balls and he looks very strong in that department, but beating Liang Wenbo from behind, showing heart and determination, and now beating O'Sullivan, he has answered a lot of questions at the Crucible that he has not answered before.
It is a bit like a video game for Ding, he has beaten the boss but now has to go to the next level to face a bigger boss - Mark Selby.
Facing the world champion will be a bigger hurdle mentally and we cannot say how it will pan out. Selby has looked astonishing so far, if Ding beats him, then he has to play someone great in the final. He is only halfway through in sessions played.
Sign up to My Sport to follow snooker news and reports on the BBC app.