Liang makes 147 - then misses easy final black on 140
Thu , 12 Apr 2018 , 9:09 pm
China's Liang Wenbo missed the final black for an unprecedented second 147 break in his first-round match in World Championship qualifying.
The 31-year-old world number 19 made a maximum in the 10th frame against Rod Lawler before missing a straightforward black on 140 in the 12th.
No player has made two 147s in a competitive match.
Liang's 140 sealed a 10-2 victory and put him into round two at the English Institute of Sport in Sheffield.
"I played well and I had a very good chance," he told World Snooker.
"I just want to play my game and show what I do in practice - that I can do 147s. Today was a very good chance. I tried.
"I need to calm down and focus now for my next match."
Liang will play compatriot Zhao Xintong, who beat Aditya Mehta 10-8, in the second round.
Liang's 147 was his second of the season and third of his career, having made one at the English Open in October.
There are 16 qualifying spots available for the World Championships, with those winning three matches joining the world's top 16 players in April 19's main draw.
The World Championships at the Crucible run from 21 April to 7 May.
Snooker
World Snooker Championship 2019: Match schedule
John Higgins wins with broken rib injury at Scottish Open
Leo Scullion thrilled to referee first World Championship final
Selby crashes out in China but McGill wins despite oversleeping
Tour Championship: Ronnie O'Sullivan holds lead over Neil Robertson
Q School: Barry Pinches faces Luke in father-and-son battle of the baize
Darren Morgan reignites Williams feud after being banned for forfeiting match
Barry Hawkins told 'get cancer' by Twitter troll
World Grand Prix: John Higgins loses to Noppon Saengkham
UK Snooker Championship 2017: Barry Hawkins says he is refocused on snooker
World Championships 2017: Gary Wilson to bask in Ronnie O'Sullivan limelight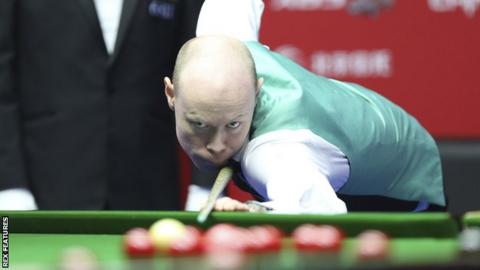 Stephen Lee: Banned snooker player denies charge of working illegally in Hong Kong
Member Activity
today , 12:56 pm
is there any straight people left in the soaps anymore I mean Rana Nazir turning gay was the icing on the cake for me in the...
today , 12:55 pm
add charity dingal to your list , she's bisex plus now you have the trans guy Matty Barton. Its supposed to be a rural farmin...