Mark Williams enjoying tournament wins despite 'getting away' without practising
Thu , 13 Sep 2018 , 6:42 am
World champion Mark Williams says he has been "getting away" without practising, and is just enjoying playing tournament snooker.
The 43-year-old Welshman is enjoying a remarkable renaissance, winning a third world title in May, 15 years after his previous Crucible success.
Williams, ranked second in the world, will face Barry Hawkins in the Shanghai Open quarter-finals.
"I'm enjoying it so much now, not even practising," Williams said.
"It's great. I'm just playing golf every day, a couple of beers with my friends, and really enjoying it.
"After this one the Shanghai Open when I go back home I will be back to the drawing board and practise hard. It will be back to normal.
"You could say I'm just getting away with it a little bit I suppose, because my cue hasn't been out of the case.
"It's come out over here probably a day before my match for half an hour here and there.
"So I'm missing shots that I know are down to lack of practice as I'm struggling to see the angles on them, so definitely I'm getting away with it a little bit."
Already the winner of the World Open in China last month, Williams plays Hawkins in the quarter-finals on Thursday.
Fellow Welshman Ryan Day takes on 2015 winner Kyren Wilson, while defending champion Ronnie O'Sullivan faces Stuart Bingham and Mark Selby plays Ding Junhui.
Snooker
World Snooker Championship 2019: Match schedule
John Higgins wins with broken rib injury at Scottish Open
Tour Championship: Ronnie O'Sullivan holds lead over Neil Robertson
Selby crashes out in China but McGill wins despite oversleeping
Leo Scullion thrilled to referee first World Championship final
Barry Hawkins told 'get cancer' by Twitter troll
Darren Morgan reignites Williams feud after being banned for forfeiting match
Q School: Barry Pinches faces Luke in father-and-son battle of the baize
World Snooker Championship 2019: Scores updates, schedule and results
Stephen Lee: Banned snooker player denies charge of working illegally in Hong Kong
World Championships 2017: Gary Wilson to bask in Ronnie O'Sullivan limelight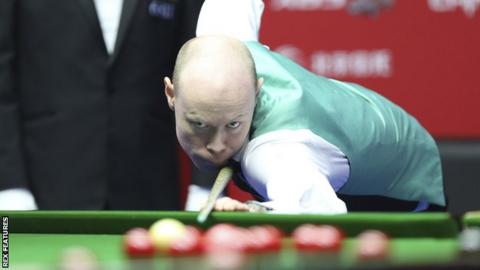 UK Snooker Championship 2017: Barry Hawkins says he is refocused on snooker
Member Activity
today , 12:56 pm
is there any straight people left in the soaps anymore I mean Rana Nazir turning gay was the icing on the cake for me in the...
today , 12:55 pm
add charity dingal to your list , she's bisex plus now you have the trans guy Matty Barton. Its supposed to be a rural farmin...