Jordan Brown vs Pang Junxu Decider! | End Of Match | 2022 Cazoo British Open Qualifiers
thetricolour.com
Get To Know: Xiao Guodong 🇨🇳
thetricolour.com
Table,computer programme, digital photo frame
Mohogany dining table roxio for pc,mobile phone asha 300,digital photo frame, all to swap for used in good condition laptop,enquiries for any individual item phone016247932
Leixlip,co kildare
Leixlip,co kildare
thetricolour.com
Email : letters@thetricolour.com
White and Doherty given invitational tour cards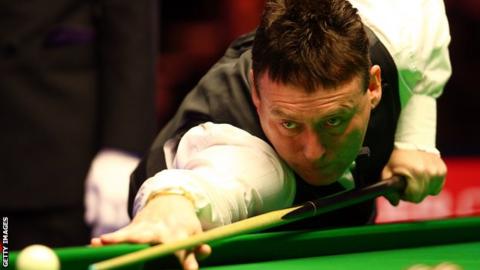 Jimmy White and Ken Doherty will receive invitational tour cards for the next two years, World Snooker chairman Barry Hearn has revealed.
White, beaten six times in the world final, lost in this year's World Championship qualifying event to relinquish his card after 37 years.
But Hearn said the popular left-hander and Doherty would be "welcomed back for the next two years as a minimum".
Irishman Doherty, 47, won the World Championship in 1997.
Hearn was speaking as part of the BBC's 40 Years of the Crucible programme and said: "I couldn't think of a stage that was more appropriate to announce the decision.
"They are multiple ranking winners in their own right but great ambassadors for the sport of snooker."
White, a Masters and UK Championship winner, dropped out of the top 64 after his 10-7 defeat by fellow Englishman Jack Lisowski in the first round of qualifying at Ponds Forge in Sheffield last week.
But World Snooker's decision means he will not have to attempt to regain a full tour card at May's Q School.
"Occasionally I still get it together and I can beat anybody, so while I've still got that game I keep trying," the 54-year-old said.
"I love practising and playing exhibitions and the game still excites me."
thetricolour.com
Email : letters@thetricolour.com
Movavi Video Editor
Edit video like a pro: cut, trim, and merge video files, add special effects, soundtracks, and titles to create your own customized movie. Manage video, audio, and titles on the multi-track timeline. Add visual effects and filters like Picture-in-picture, SplitScreen, and Zoom, overlay soundtrack and titles. Import video from multiple
thetricolour.com
Screen Recorder and Video capture
Screen Recorder . Record whats on your computer Screen including videos and sound . This tool allows you to capture whatever is happening on your computer screen , if a video is playing you can record the video or parts of the video and save them to a file .
thetricolour.com