Jon Rahm shoots 9-under 63 | Round 3 | ZOZO CHAMPIONSHIP 2020
thetricolour.com
Justin Thomas shoots 5-under 67 | Round 3 | ZOZO CHAMPIONSHIP 2020
thetricolour.com
Political upheaval in Ireland and the EU
How many times are we told that the European Union is about bringing peace and unity after World War II , apart from the irony that Germany , which was solely responsible for starting that war now has most influence through its majority MEPS and is in control of the
thetricolour.com
Phillip Schofield story shows us gay people can live happy with opposite sex
Letter to Editor 16 September 2020 They say Love is more than just physical attraction . In February of this year , BBC presenter Phillip Schofield announced publicly that he was gay . Schofield had been married to his wife Stephanie for 27 years and had two daughters
thetricolour.com
Covid-19 recovery rates hidden from public
Letter to Editor 12 Sept 2020 Every day in Ireland , the overall total of confirmed Covid-19 cases and Deaths is read out in our daily news Bulletins . Many people are wrongly led to believe that this is the number of people who currently have the Virus
thetricolour.com
World Championship 2017: Mark Selby beats Fergal O'Brien 10-2 in opener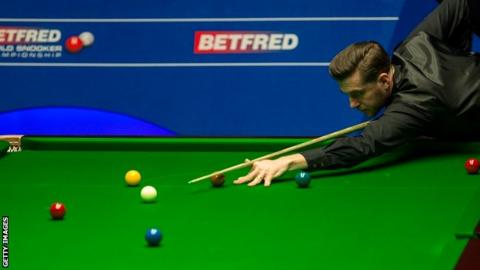 Defending champion Mark Selby reached the second round of the World Championship by thrashing Fergal O'Brien 10-2 at the Crucible Theatre.
Leicester's Selby, who beat Ding Junhui in last year's final, looked on course for a whitewash by going 8-0 ahead.
Irishman O'Brien claimed the ninth and 11th to avoid becoming only the second player to exit without winning a frame, but Selby wrapped up the match.
He will face either Wales' Ryan Day or China's Xiao Guodong in the next round.
Selby has enjoyed a stellar season - claiming four ranking titles, including this month's China Open, though no player has followed that by winning the world title in the same season.
The world number one made top breaks of 92, 77 and 66 as he began his attempt to win his third title at the Sheffield venue, which is holding the event for a 40th year.
Having made light work of O'Brien, Selby has almost a week off, returning to action next Saturday.
Dubliner O'Brien came through qualifying by beating David Gilbert in a final-frame decider - the longest frame in snooker history, timed at two hours, three minutes and 41 seconds.
But he struggled badly in the first-round encounter, managing a high break of just 32, although he avoided the ignominy of joining Eddie Charlton - who lost 10-0 to John Parrott in 1992 - as the only players not to win a frame at the championship.
He has now lost six successive meetings against Selby, claiming just four frames in a run stretching back to 2006.
In an all-Scottish tie, qualifier Stephen Maguire claimed eight frames in a row to trounce Anthony McGill 10-2.
Maguire, who has won five ranking titles, has fallen to 24th in the world but was in good scoring form, compiling breaks of 97, 66 and 60 to go through.
Meanwhile, five-time champion Ronnie O'Sullivan was pegged back to a 5-4 lead over debutant Gary Wilson.
Former taxi driver Wilson fell 5-1 behind but took the last three frames of the session, including the ninth having needed snookers.
On the other table, Kyren Wilson leads 5-4 against Crucible first-timer David Grace.
thetricolour.com
Drogheda - Give up yer aul booze , Man goes Teecrazy in Tesco
Drogheda , Wednesday 21 October , Man goes crazy in Tesco smashing dozens of whiskey and wine bottles . The 33 year old man was subsequently arrested and appeared before Dundalk District Court .
thetricolour.com
Watch - Galway Homeless are fighting back
Homeless people in Galway have begun to mobilise in the City's Eyre Square to voice their frustrations with government . The homeless people were confronted by a number of counter protesters allegedly organised through Galway City Council . The protests follow news that the government has spent millions securing
thetricolour.com
Watch - Morgan Freeman Speaks Against Black History Month
Black History Month takes place in just Five Countries around the World . It was started in the USA by students at Kent State University Ohio and spread to the UK , Canada , the Netherlands and recently Ireland . In the USA and Canada it takes place in February
thetricolour.com